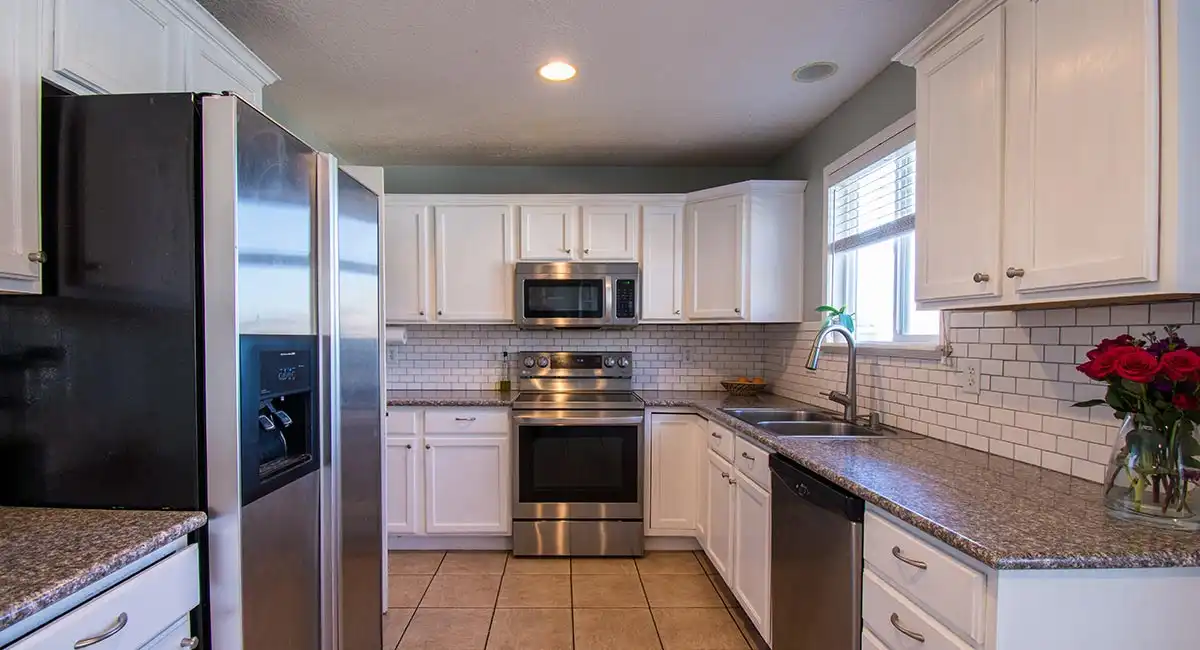 Whether you are planning to refinish your kitchen or replace your cabinets, you should choose an option that will provide a long-lasting, easy-to-clean finish. Melamine paper is a type of paper that can be used to make your cabinet finish durable and resistant to heat, moisture, and stains. It also offers an attractive look and has a matte finish that is less likely to show off dust, fingerprints, or smudges.
Gloss-finish vs matte-finish appearance
Choosing between the glossy and the matte, is a question of choice for many homeowners. Which is more likely to enhance your kitchen's aesthetic appeal?
The glossy is a good choice if you are renovating a small space, while the matte is better suited for a contemporary home. The glossy is also more scratch resistant, and is easier to clean. The gloss is usually the better choice for a kitchen that contains young children.
The glossy is the best for a kitchen that features white countertops, as it makes the room look bigger. The gloss is also a good choice for a transitional kitchen.
The matte is the way to go if you are looking for a natural appearance. The matte is also more durable, and will last for years to come. Melamine, a synthetic compound, is used to create these surfaces, and is available in a wide range of colours and finishes.
The best thing about this material is that it can be applied to a wide variety of surfaces. It is also a lot cheaper than polyurethane, and can even be used to make a textured melamine cabinet. The technology is also improving rapidly, with costs being cut by as much as half.
The other novelty of the glossy is the fact that it is very easy to wipe clean. The shiny surface tends to show more smudges and scratches than its matte counterpart.
Durability
Whether you're updating your cabinets or just looking to buy new ones, Melamine Paper for cabinets is a durable material that can last for years. It's also low maintenance and environmentally friendly. You can choose from a wide range of colors and designs.
It's resistant to scratches, stains and heat. It's also easy to clean. You can use acrylic, latex or chalk paint on a melamine surface. You can also use paintable putty to repair scratches, gouges and damage.
You can also paint the interior of a melamine cabinet. You should remove the doors and hardware before you paint. You can also protect your hardware with painter's tape.
You can get a more realistic look by using textured melamine. This is a special type of laminate that creates a more three-dimensional texture. It's available in several textures, including faux wood grains. You can find it for IKEA Sektion kitchen cabinets and PAX closet cabinets. It has excellent resistance to moisture, making it a great choice for bathrooms.
Melamine is made with a high-quality core, which makes it strong and durable. The outer coating is applied with a color that can be virtually any color. It's also easy to install. You can peel and stick a melamine sheet into place, or you can nab it with a saw.
Melamine is more durable than plywood and MDF, two other commonly used cabinet materials. However, it's also susceptible to water damage. You should check to make sure that the wood particle core of your melamine cabinets is dry. If it's damp, it can warp, resulting in chipping or breaking.
Resistance to heat, moisture, stains and dirt
Melamine paper has relatively bigger thickness than the finished foil, can last the service life over decades years. Meanwhile, it has good resistance to heat, moisture, stains and dirt, suitable for cabinet surface decoration and protection. You also can find the wood grain melamine paper on the other furniture surface, desk, flooring, door etc.
Ease of cleaning
Using melamine in your kitchen isn't a bad idea, especially if you live in a busy household. The material is durable, lightweight, and is resistant to mildew. It's also the most affordable option, and comes in a wide range of colors and finishes. Aside from the aforementioned benefits, you'll get the perks of owning a custom-built kitchen without the hassles of painting or refinishing.
The best part of the melamine craze is that it's not only aesthetically pleasing, but it's also easy to maintain. This makes it ideal for busy households who may not have the time to devote to a messy task. The most obvious drawback is that the material is heavy, and can splinter easily if not handled correctly. It also requires the use of heavy duty hinges and screws. Luckily, it's not impossible to find the perfect melamine cabinets to match your tastes and budget.
The real trick is picking the right type of melamine for your kitchen. There are several options to choose from, and it pays to shop around. There are cabinets with simulated finishes, wood grain patterns, and other more glamorous designs. Unlike other materials, melamine is nonporous, meaning it's a breeze to clean.
Shelving with finished edges
Choosing to upgrade your cabinets with Melamine paper will give you a long-lasting finish that will resist scratches and stains. This durable material is also easier to clean than solid wood.
You can customize your cabinets with different colors and patterns. It can also be made to look like real wood. If you want to have a rustic or modern look, you can have textured melamine. The texture gives your cabinets a three-dimensional look that mimics the look of actual wood. This material is fire retardant as well.
Melamine is an affordable alternative to solid wood. It is less expensive than wood veneers and is resistant to stains and scratches. It also lasts longer and is more water resistant.
If you need to replace your kitchen cabinets, melamine is an option that is easy to install. It is lighter than some other cabinet materials, so it is ideal for small spaces. You can choose from a variety of finishes, including gloss and matte. This type of cabinet can be installed in any room in your home.
Plywood is another popular choice for kitchen cabinets. Plywood is a composite of many layers. The top layer is usually plywood, but you can also find hybrid plywood. It has a plywood core and a melamine outside face. This makes it a perfect choice for white interiors.
Plywood is cheaper than melamine, but it can sag more than melamine. This means you will have to use heavier brackets or hinges to secure your cabinets. It can also be harder to repair.
Cost
Using melamine for cabinets is an option that may fit into your budget. It is more durable than solid wood and can be a good choice for families with children and pets. It is also environmentally friendly.
The surface layer of melamine can chip or crack, which can make it difficult to repair. It can also be damaged by water. It is important to protect the surface from moisture and other environmental elements, such as extreme heat and humidity.
If you want to maintain a sleek look, you may choose to purchase melamine cabinets that have a gloss finish. This gives a high-quality look without adding a lot of extra costs. You can customize the look by choosing different colors, patterns, and finishes.
However, if you don't know how to work with melamine, you should hire a professional to install it for you. It's best to have the work done by a company that specializes in cabinetry.
You can find melamine products at your local home center or lumberyard. They usually come in white or light colors. They can be special ordered in 10 to 20 other colors, if you don't see the color you're looking for.
When you decide to buy a melamine cabinet, you should make sure it is the right one for your needs. If you use it for storing heavy items, you should take care to install the correct screws and brackets. If you don't use the correct brackets, your doors and drawers may sag.
https://www.yodean-decor.com/wp-content/uploads/2022/12/Upgrade-Your-Cabinets-With-Melamine-Paper-for-a-Long-Lasting-Finish.webp
650
1200
Yodean
http://www.yodean-decor.com/wp-content/uploads/2020/06/logo.png
Yodean
2022-12-14 02:54:08
2022-12-14 03:00:24
Upgrade Your Cabinets With Melamine Paper for a Long-Lasting Finish