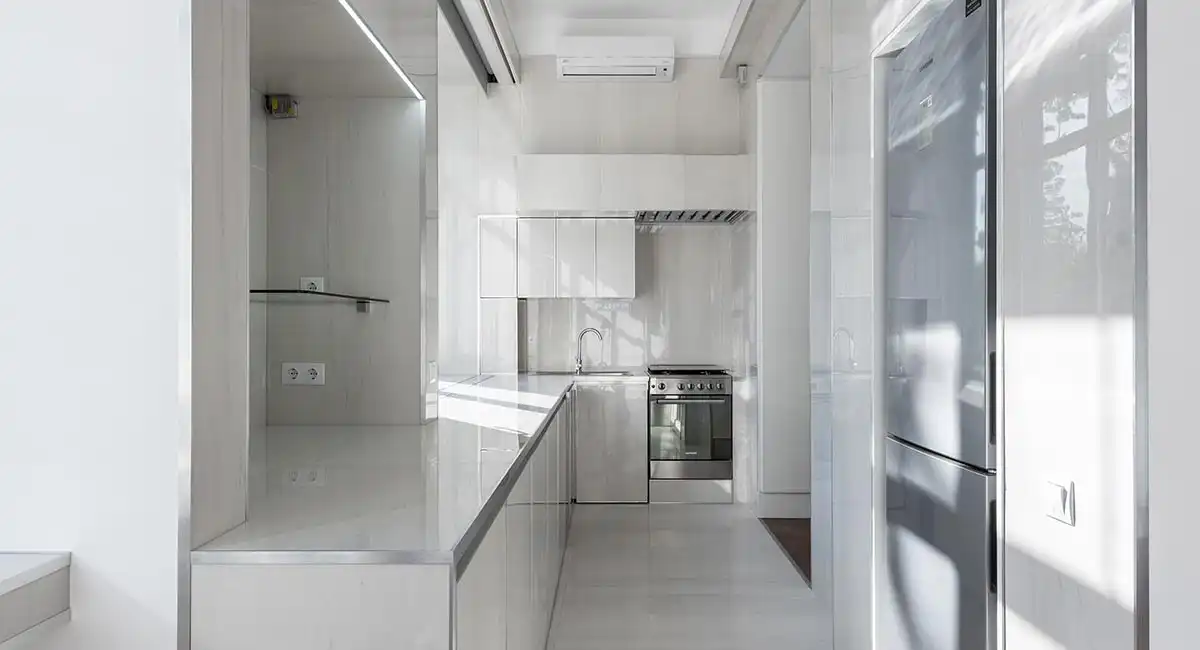 When deciding between laminate vs melamine cabinets, there are some things that you should consider. You'll want to consider the benefits and drawbacks of each. You should also be aware of the costs and the upkeep. This article will provide an overview of the differences between the two.
Choosing between laminate cabinets and melamine cabinets
There are many benefits to melamine cabinets, but you also have to consider the disadvantages. Melamine is a synthetic material, and it is susceptible to water. It can swell near water sources, and damaged melamine is difficult to repair. It also shatters and breaks, exposing the rough wood underneath.
However, if you're looking for the most versatility, you'll want to choose melamine cabinets. They come in a wide variety of colors and finishes. Some come with wood grain patterns and textured finishes. These options can give your kitchen a rustic, industrial feel. Melamine also releases nitrogen when it burns, so it's fire-retardant. Melamine kitchen cabinets cost less than other types of cabinetry, but they are slightly heavier. They're also prone to splintering during careless installation.
Unlike laminate, melamine does not wear out easily, but it does have a shorter lifespan than its counterpart. It is less expensive to manufacture than laminate, but it won't last nearly as long. While melamine may be less expensive than laminate, it isn't worth choosing low-quality melamine. If you're looking for a long-lasting finish, look for thicker thermal-fused melamine. The texture gives cabinets a three-dimensional look. It also allows for faux wood grains and bamboo textures.
Both melamine and plywood cabinets are good choices for the home. Although melamine is a more affordable material, plywood is a more durable option and offers excellent construction. It's up to you to decide which one will work best for your space.
Benefits of melamine cabinets
Melamine cabinets are a great option for anyone looking to save money on cabinetry. They have a durable, scratch-resistant coating and don't need re-staining or sealing like wood cabinets do. They are also easy to clean. A few downsides to melamine cabinets include being a bit heavier than other types of cabinetry and being more prone to warping or sagging.
Melamine cabinets are easy to install. It is important to make a thorough floor plan before installing your new cabinetry. This helps you determine the size of the cabinets and what appliances should be placed in them. You should also identify any utilities in the kitchen, such as water and electric ports. By following these guidelines, you can install your new melamine cabinets without disrupting the utilities in the area.
Melamine cabinets are easy to maintain. These cabinets are often available with slab doors that make it easy to clean them and allow them to dry without sacrificing structural integrity. If you're using a particleboard cabinet, you'll want to make sure that you dry the cabinets completely after cleaning. If water is left in the cabinets for long periods of time, the wood particles inside can begin to splinter and lose structural integrity.
Melamine cabinets are one of the most popular types of kitchen cabinets available. They are scratch-resistant, heat-resistant, and moisture-resistant. They are also relatively inexpensive compared to other types of cabinets. They are also easy to clean and available in a wide variety of colors.
Cost of melamine cabinets
If you are considering installing melamine cabinets in your kitchen, you have a couple of options. One of them is the European textured melamine, which provides a consistent wood grain look. The other option is standard melamine, which is a good choice for a quick reno.
Melamine cabinets are a popular choice for homeowners. This type of cabinet is made by applying a heat seal to pressed wood, medium density fiberboard, plywood, or paper saturated with melamine resin. This material is easy to clean and has an extremely long lifespan. It is also relatively affordable.
A new set of melamine cabinets can improve the value of your home. Future buyers will be more willing to pay more for a home with melamine cabinets than one with standard cabinets. Additionally, new melamine cabinets can make your home look newer. They can also increase the value of your home, making it more attractive to potential buyers.
A custom cabinet will cost about $1,000 to $4,000 depending on the size and style. If you want to add glass to your kitchen cabinets, the price goes up. Typically, glass costs nine to twelve dollars per square foot. This cost will also be affected by the type of wood and frame. Also, you need to make sure you have the budget to complete the installation of the cabinets. If you don't want to spend too much money on cabinets, stock cabinets are a great option.
https://www.yodean-decor.com/wp-content/uploads/2022/10/Laminate-Vs-Melamine-Cabinets.webp
650
1200
Yodean
http://www.yodean-decor.com/wp-content/uploads/2020/06/logo.png
Yodean
2022-10-31 04:08:35
2023-04-17 03:50:16
Laminate Vs Melamine Cabinets