Straight Wood Grain PVC Foil Lamination Film
| | |
| --- | --- |
| Product | Straight Wood Grain PVC Foil Lamination Film |
| Material | PVC membrane foil |
| Thickness(mm) | 0.20-0.45 |
| Width | 1400mm, customer-sized |
| Design | wood grain/marble/solid color/fancy/cotton, etcOil Based Ink |
| Surface Treatment | Embossed/matt/high glossy,etc |
More Details about PVC Wood Grain Lamination Film
PVC membrane structure is a special structure system which is different from traditional structure. Membrane material is not only the structural bearing component, but also the roof enclosure material. At the same time, the membrane material itself is quite good decorative material.
The PVC wood grain lamination film is the replacement of finish foil, it is used to protect and decorate the surface by heat pressing machine, mainly used for furniture and some curve design furniture such as bookself. During the process, the processer is asked highly attention to aviod the folds.  Yodean Decor has thousands of design for selections, help you make furniture design in unlimited possible, email us if you have any demands in PVC foil laminate film.
Product Description
Description
Covered by vacuum membrance on the surface of various boards, such as MDF, veneer boards, flake boards, fiberboards, block boards, PVC profile and other materials of high-pressure floor slabs, asbestos boards, slates, aluminum and plastic profiles which used. For indoor decoration and funiture making industry.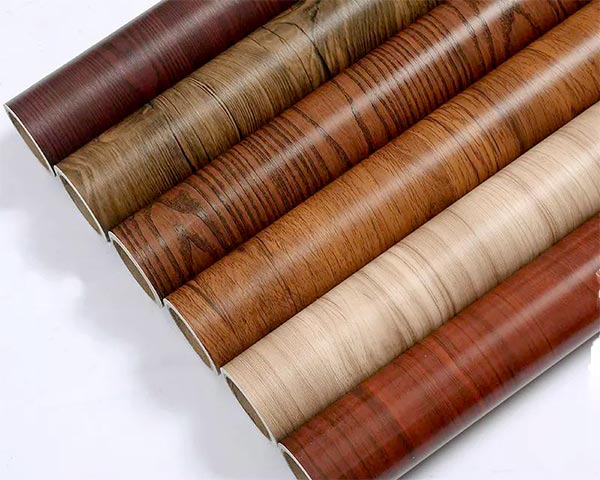 Specifications
The characteristics of PVC Membrane Foil include its reliability and easy-to-use properties. These characteristics make it suitable for many purposes including decoration and packaging.
| | |
| --- | --- |
| Item | VACUUM PRESS PVC FLIM |
| Material | PVC membrane foil |
| Thickness(mm) | 0.20-0.45 |
| Width | 1400mm, customer-sized |
| Length | 100-400M/Roll(Designed by thickness) |
| Design | wood grain/marble/solid color/fancy/cotton, etc |
| Surface Treatment | Embossed/matt/high glossy,etc |
| Usage | Door frame/window frame/plywood/cabinet/desk and pvc wood |
| Functions | Waterproof/moisture proof/mould proof/smoke proof/fireproof/soundproof/sound-absorbing/heat insulation/Anti-static |
| Feature | Self-Adhesive or not adhesive |
| Delivery time | About 20 days after receiving deposit |
Introduction
PVC foil is an lamination film, used for indoor decoration and furniture production. It has high brightness and flexibility, which makes it easy to cut, paste and glue. Its surface is smooth, bright and shiny; it has good water resistance, resistance to oil and alkali corrosion.
PVC foil is mainly made up of two parts: the inner layer and the outer layer. The inner layer is a thin plastic film sandwiched between two layers of film. The outer layer is also made up of three layers: the back sheet, the intermediate sheet and the front sheet (the picture shows only one side). All these three layers are laminated together through hot stamping process.
PVC foil has many advantages over other materials such as PET film: it does not easily tear when it is being cut or bent; its printable surface area is larger; it has better transparency than PET film; it has excellent strength and toughness; it can resist heat well and has a good barrier performance against moisture vapor diffusion; its color stability is good; its light-fastness is higher than that of PET film, etc.
Features
Superior Stain Resistance
Easy to cut, Wrap and Bend
Outstanding Abrasion and Scratch Resistance
High Color Permanence and Vibrant Colors
No Melamine Joint Lines
Perfect for Curved Panels
Non-toxic
Waterproof, dampproof
Easy to clean, scratch-resistant, heat-resistant, moisture resistant
High impact resistance
Good flexibility and superior bending strength
High UV resistance, abrasion-resistance, chemical resistance, and stain resistance
Application
Furniture doors
Cabinet doors
Cabinets
Wall panels
Door frame
window frame
plywood
Desk and PVC wood
…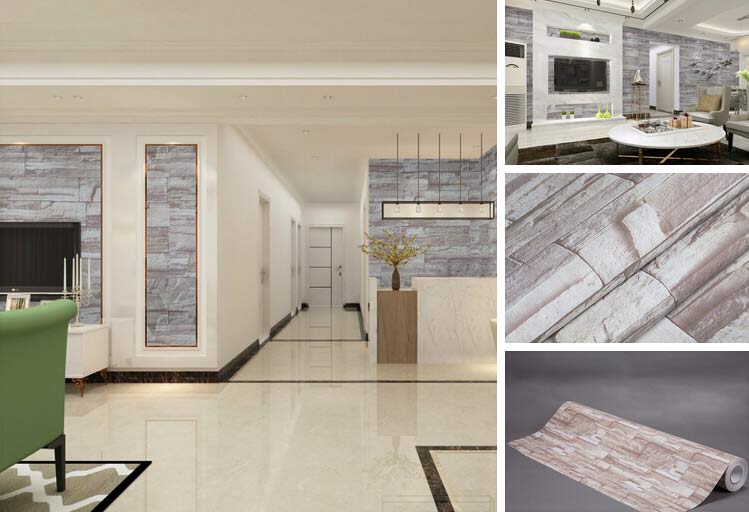 PS: Yodean Decor PVC foil film is not suitable for renewing the furniture the same as the selfadhesive furniture contact paper, the lamination film is the same as the finish foil, decorate the surface by heat pressing. but the vacuum press pvc film is always used with vacuum blister machine for the processing.
Recommended Thickness of PVC Film
| | |
| --- | --- |
| Clapboard: | 0.12-0.20mm |
| Gussets, window sills, ceilings: | 0.12mm-0.20mm |
| Cold stick, flat stick: | 0.12mm- 0.20mm |
| Paint free door: | 0.12mm- 0.25mm |
| Furniture: | 0.12mm- 0.30mm |
| Security door: | 0.16mm- 0.20mm(common width: 1080mm) |
| Cabinet door vacuum blister: | 0.30mm- 0.35mm |
Why Choose Yodean Decor PVC Foil?
PVC eco-friendly material, never use the recycled material
Skin-like feel with a variety of colors
Thousands of designs and colors to choose from, zero tailoring available
Multi-color register printing + precision embossing roller. Vivid colors and clear textures
No fading, the film surface is resistant to tension and stretching, makes more possible in different design
Packaging:
PVC film in rolls in polyfoam packing in carton or pallet.
100-400M/Roll(Designed by thickness)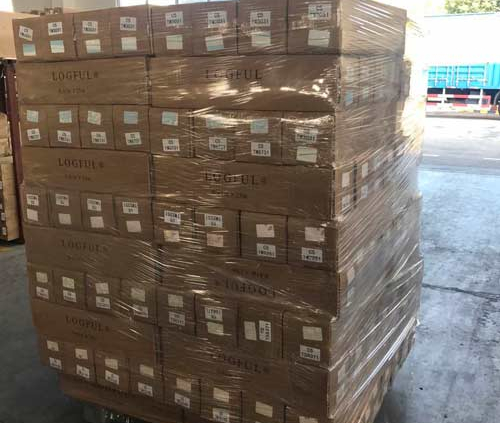 Available processing machine
Vacuum press machines
Storage